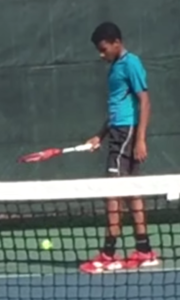 For the first time in his tennis career, Felix Auger-Aliassime of Montreal, Quebec beat his Canadian counterpart, Denis Shapovalov of Toronto, Ontario, on the ATP Tour. In the first round of the Mutua Madrid Open in Madrid, Spain on Sunday, Auger-Aliassime came away with a convincing straight set 6-2, 7-6 win.
During the match, Auger-Aliassime was able to break Shapovalov three times, while Shapovalov broke Auger-Aliassime once to help him set up a second set tiebreak. In the tiebreak, Auger-Aliassime won 9-7.
One area where Shapovalov struggled mightily was with unforced errors. He had 38 of them in the match, including 21 on his forehand, according to Jack Spiegel of the Sporting News.
This was the second time that Auger-Aliassime and Shapovalov have played against each other on the ATP Tour. Last year in the first round of the 2018 US Open from Flushing Meadows, New York, Shapovalov beat Auger-Aliassime 7-5, 5-7, 4-1 before Auger-Aliassime had to retire due to heart palpitations.
The second round match will not be an easy one for Auger-Aliassime by any means. That is because he is having to face the 17-time major champion Rafael Nadal of Spain, who has won the Madrid Open five times (2005, 2010, 2013, 2014 and 2017). This will be the first time ever that Auger-Aliassime will have played Nadal.