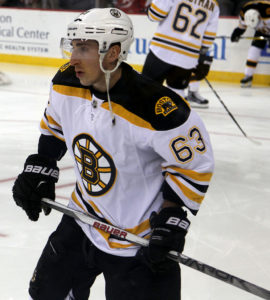 Brad Marchand of Halifax, Nova Scotia was instrumental for the Boston Bruins in their 4-3 win over the Columbus Blue Jackets in game five of the Eastern Conference second round series on Saturday. Marchand led the Bruins in scoring with three points as he had one goal and two assists. With the win at the Toronto Dominion Garden in Boston, Massachusetts, the Bruins took a three games to two lead in the best out of seven series.
Marchand recorded all three of his points in the third period. At 4:51 of the final frame, he scored from Canadian Olympic gold medalist Patrice Bergeron of L'Ancienne-Lorette, Quebec and Connor Clifton to put the Bruins up 2-0 at the time. Then after the Blue Jackets closed the gap by a goal, Marchand picked up an assist on a goal by David Pastrnak at 11:16, which put the Bruins up 3-1. The Blue Jackets marched back with two goals in a span of one minute and 51 seconds to tie the game at three before Pastrnak scored the game winning goal from Marchand and Brandon Carlo with 1:28 left in the game.
Game six of the series is Monday from Columbus. Bergeron won a gold medal for Team Canada at the 2010 Olympic Winter Games in Vancouver and the 2014 Olympic Winter Games in Sochi.
Meanwhile, in the Western Conference on Saturday, the San Jose Sharks beat the Colorado Avalanche 2-1. With the win, the Sharks take a three games to two lead in their best out of seven series. Game six is Monday in Denver.