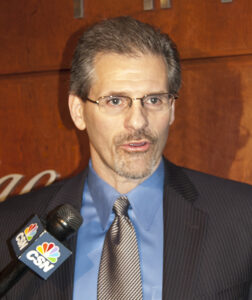 According to Adam Gretz of NBC Sports on Tuesday, the Pittsburgh Penguins have named Ron Hextall of Brandon, Manitoba their new general manager. Hextall takes over from Jim Rutherford of Beeton, Ontario, who resigned on January 27 due to health concerns.
This will be Hextall's second general manager position in the state of Pennsylvania. He was previously the general manager of the Philadelphia Flyers from 2014 to 2018. Hextall also was the assistant general manager for the Flyers from 2013 to 2014, and the assistant general manager of the Los Angeles Kings from 2006 to 2013. While with the Kings, Hextall won a Stanley Cup in 2012.
As a player, Hextall played 13 National Hockey League seasons as a goaltender with the Philadelphia Flyers, Quebec Nordiques, and New York Islanders. In 1987, he had the distinction of being one of five Conn Smythe Trophy winners all-time not to win the Stanley Cup. The Flyers reached the Stanley Cup Finals, but lost to the Edmonton Oilers in seven games. The others on the list were Detroit Red Wings goaltender Roger Crozier of Bracebridge, Ontario (1966), St. Louis Blues goaltender Glenn Hall of Humboldt, Saskatchewan (1968), Philadelphia Flyers right winger Reggie Leach of Riverton, Manitoba (1976), and Anaheim Ducks goaltender Jean-Sebastien Giguere of Montreal, Quebec (2003).
In another interesting statistic, Hextall won the Vezina Trophy and Conn Smythe Trophy in his rookie season of 1986-87, but not the Calder Trophy for the NHL rookie of the year. Hextall finished behind Los Angeles Kings left winger Luc Robitaille of Montreal, Quebec in voting.
In Pittsburgh, Hextall will work under Brian Burke, who was named the President of Hockey Operations for the Penguins. Pittsburgh is currently in fifth place in the East Division, and one point back of the New York Islanders for a playoff spot.