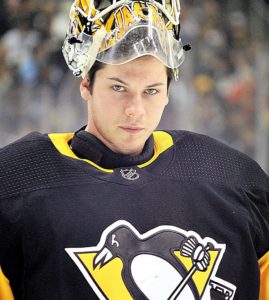 Pittsburgh Penguins goaltender Tristan Jarry of Surrey, British Columbia recorded his fifth National Hockey League career shutout on Thursday. Jarry made 17 saves as the Penguins defeated the Columbus Blue Jackets 1-0 in overtime at the PPG Paints Arena in Pittsburgh, Pennsylvania.
Jarry made six saves in the first period, five saves in the second period and six saves in the third period. Oliver Bjorkstrand of Herning, Denmark led the Blue Jackets with three shots on goal.
Pittsburgh's overtime winner came from Bryan Rust at 3:02 of the extra period on the power play. Kris Letang of Montreal, Quebec and Jake Guentzel notched the assists. Blue Jackets forward Pierre-Luc Dubois of Ste-Agathe-Des-Monts, Quebec had been in the penalty box for a slashing penalty.
Jarry has a record of eight wins and five losses in 11 starts and 13 games played during the 2019-20 National Hockey League regular season. He has a goals against average of 1.76, save percentage of .941 and three shutouts. He currently leads the NHL in goals against average and save percentage, and is tied for the NHL lead in shutouts with Pekka Rinne of the Nashville Predators.
Jarry's other shutouts this season came on December 4 in a 3-0 Penguins win over the St. Louis Blues and on December 6 in a 2-0 Penguins win over the Arizona Coyotes. Jarry also got shutouts in a 4-0 Penguins win over the Buffalo Sabres on December 1, 2017 and in a 4-0 win over the New York Islanders on January 5, 2018.
The Penguins are currently tied for third place in the Metropolitan Division with the Carolina Hurricanes. Both teams have 40 points. The Penguins currently lead the New York Rangers, Tampa Bay Lightning and Florida Panthers by five points for a playoff spot in the Eastern Conference.