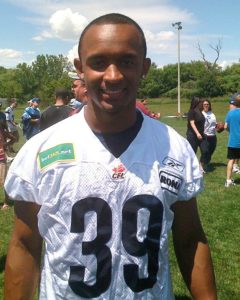 The Toronto Argonauts  beat the Calgary Stampeders 27-24 in a historic Grey Cup from Ottawa, Ontario on Sunday. During the game, the Argonauts set two impressive records–the longest touchdown pass in Grey Cup history and the longest fumble return for a touchdown in Grey Cup history.
The longest touchdown pass came to begin the second quarter. Argonauts quarterback Ricky Ray and DeVier Posey connected on a 100 yard touchdown reception to tie the football game at the time at six points each. The longest fumble return came with five minutes and 16 seconds left in the fourth quarter. Stampeders wide receiver Kamar Jorden fumbled the football on the Argonauts one yard line and was recovered by cornerback Cassius Vaughn, who ran 109 yards for the touchdown. Vaughn is in his second season in the CFL (one season in Hamilton and one in Toronto) after six years in the NFL from 2010 to 2015 with the Denver Broncos, Indianapolis Colts, Detroit Lions, Baltimore Ravens and San Diego Chargers.
Remarkably, the Stampeders still had a chance to win the Grey Cup at the end of the game, but Stampeders quarterback Bo Levi Mitchell had his pass in the end zone intercepted by defensive back Matt Black of Toronto, Ontario to preserve the victory.
The CFL must change their system when it comes to most outstanding player and most outstanding Canadian. There is no question that the most outstanding Canadian should have been Black over Stampeders running back Jerome Messam, who got the nod after rushing 62 yards and a touchdown and catching the ball for six yards and a touchdown.
There is no question that Messam had a respectable performance, but the bottom line is the Stampeders lost. Black had one of the most important plays of the game and his excellent defense was not recognized adequately by the Canadian Football League. In the future, the CFL must wait for the entire game to be played before making the determinations on individual awards in the Grey Cup. The CFL should strongly consider presenting the award to Black, as it is too late to strip the award from Messam.