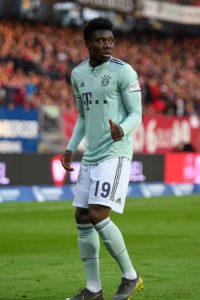 According to Neil Davidson of the Canadian Press, Alphonso Davies of Edmonton, Alberta won the 2020 Lionel Conacher Award, which is presented to Canada's top male athlete on an annual basis. Davies becomes the first Canadian soccer player to ever win the award.
This past season, Davies won the Champions League, and Bundesliga titles with Bayern Munich. He was also the Bundesliga rookie of the year, and selected to the FIFPRO XI team, which is equivalent to the first all-star team in the National Hockey League. However, what made Davies's selection to the team so special is that he was the first North American soccer player ever included on the team since the first FIFPRO XI team was announced in 2005.
With Bayern Munich in 2019-20, Davies had three goals and four assists in 29 Bundesliga games. He also had four assists in eight Champions League games.
In addition to winning the Lionel Conacher Award, Davies won the Lou Marsh Award alongside Kansas City Chiefs offensive lineman Laurent Duvernay-Tardif of Mont-Saint-Hilaire, Quebec. The 2020 year will be known in the Canadian sports world as the year that soccer players won the two most prestigious Canadian Press Athlete of the Year Awards. On Monday, soccer player and two-time Olympic bronze medalist Christine Sinclair of Burnaby, British Columbia, won the Bobbie Rosenfeld Award.