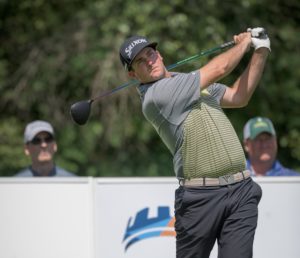 According to Todd Saelhof of The Calgary Sun on Friday, the 2020 PGA Tour Canada season has been cancelled because of coronavirus. There were supposed to be 12 events throughout Canada on the Mackenzie Tour (also known as the PGA Tour Canada), but due to the horrendous pandemic, the entire schedule has now been wiped out. The PGA Tour Canada is a developmental tour for the PGA Tour.
The 12 events cancelled are the Canada Life Open in Vancouver, British Columbia (May 25-31), the DC Bank Open in Victoria, British Columbia (June 1-7), the GolfBC Championship in Kelowna, British Columbia (June 8-14), the Lethbridge Paradise Canyon Open in Lethbridge, Alberta (June 22-28), the Prince Edward Island Pro-Am in Brudenell, Prince Edward Island (June 29-July 5), the Osprey Valley Open in Caledon, Ontario (July 6-12), the Windsor Championship in Windsor, Ontario (July 13-19), the Alberta Treasury Branch Financial Classic in Calgary, Alberta (August 3-9), the Manitoba Open in Winnipeg, Manitoba (August 10-16), the Ontario Open in Tottenham, Ontario (August 24-30), the Mackenzie Investments Open in Blainville, Quebec (September 7-13) and the Canada Life Championship in London, Ontario (September 14-20). Currently, there are 90,166 cases of coronavirus in Canada and 7,073 deaths.
In 2019, Taylor Pendrith of Richmond Hill, Ontario won two PGA Tour Canada events. He won the 1932byBateman Open in Edmonton, Alberta on August 4, and the Mackenzie Investments Open in Montreal, Quebec on September 8.
In the history of the PGA Tour Canada, seven Canadians have ranked number one in Order of Merit during a single season. They are Dave Barr of Kelowna, British Columbia (1986 and 1988), Jerry Anderson of Montreal, Quebec (1989), Mike Weir of Sarnia, Ontario (1997), Jon Mills of Oshawa, Ontario (2003), Graham DeLaet of Weyburn, Saskatchewan (2009), Matt Hill of Sarnia, Ontario (2012), and Mackenzie Hughes of Dundas, Ontario (2013).