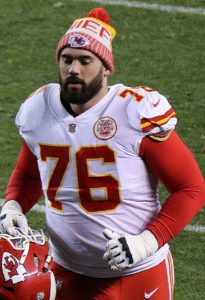 For only the third time ever there are co-winners of the Lou Marsh Award, which is presented to the Canadian athlete of the year. In 2020, the winners are soccer player Alphonso Davies of Edmonton, Alberta, and National Football League offensive lineman Laurent Duvernay-Tardif of Mont-Saint-Hilaire, Quebec.
Davies becomes the second Canadian soccer player all-time to win the award. Two-time Olympic bronze medalist Christine Sinclair of Burnaby, British Columbia won the award back in 2012. Sinclair was instrumental in leading Canada to a bronze medal at the 2012 Olympic Games in London.
Davies is receiving the award for his exceptional play with Bayern Munich this past season. In addition to being the Bundesliga Rookie of the Year (three goals and four assists), Davies helped Bayern Munich win the Bundesliga title and Champions League title for 2020.
Duvernay-Tardif became the first National Football League player to win the award, and fifth football player overall. He follows Joe Krol of Hamilton, Ontario (1946), Bob McFarlane of London, Ontario (1950), Russ Jackson of Hamilton, Ontario (1969), and Jon Cornish of New Westminster, British Columbia, in 2013.
Duvernay-Tardif is being honoured for winning the Super Bowl back in February. While playing the position of offensive guard, the Chiefs defeated the San Francisco 49ers 31-20 in Miami. It was the first Chiefs Super Bowl in 50 years. When the NFL resumed in September, Duvernay-Tardif, who is a medical doctor, opted out of the season to work at a long-term care facility in Montreal that had been impacted by coronavirus.
The other two times there were co-winners of the Lou Marsh Award were 1978 and 1983. In 1978 the winners were six-time Commonwealth Games gold medalist and 200 metre individual medley world swimming champion Graham Smith of Edmonton, Alberta, and two-time World Cup alpine skiing downhill champion Ken Read of Calgary, Alberta. Then in 1983, the winners were Edmonton Oilers star Wayne Gretzky of Brantford, Ontario, and wheelchair racer Rick Hansen of Port Alberni, British Columbia.