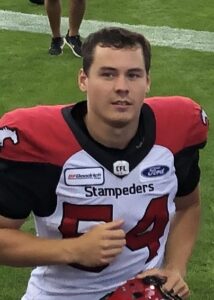 The Montreal Alouettes have been by far the busiest team in Canadian Football League free agency. After signing three defensive lineman on Tuesday, they acquired five more players on Wednesday, all of whom are from Quebec. They were long snapper Pierre-Luc Caron of Laval from the Calgary Stampeders, linebacker Alexandre Chevrier of Pointe-Claire from the Saskatchewan Roughriders, wide receiver Regis Cibasu of Montreal from the Toronto Argonauts, defensive back Kerfalla-Emmanuel Exume of Montreal from the Winnipeg Blue Bombers, and offensive lineman Jason Lauzon-Seguin of Pointe-Claire from the Ottawa Redblacks.
Caron has played 71 games with the Stampeders since 2016. He won a Grey Cup with the Stampeders in 2018, and was able to sign with the Alouettes after his wife got a job in Montreal. Caron played his university football at the University of Laval.
Chevrier played with the Saskatchewan Roughriders in 2018 and 2019. He had 28 special teams tackles over the last two seasons, including 12 in 2019.
Cibasu is still looking for his first CFL catch after not getting one in his rookie season with the Argonauts in 2019. A product of the University of Montreal Carabins, Cibasu will be reunited with Alouettes General Manager Danny Maciocia of Montreal, who coached Cibasu with the Carabins. The two won the 2014 Vanier Cup together. Cibasu was the 2014 Vanier Cup most valuable player as he caught six passes for 90 yards in a 20-19 win over the University of McMaster Marauders.
Exume won a Grey Cup with the Blue Bombers in 2019. That season he had 25 special teams tackles. Like Cibasu, Exume played at the University of Montreal under Maciocia.
Lauzon-Seguin played four seasons from 2016 to 2019 with the Redblacks. His most notable season as his rookie season. That year Lauzon-Seguin not only won a Grey Cup with Ottawa, but was also a finalist for the CFL rookie of the year where he lost to Stampeders wide receiver DeVaris Daniels.