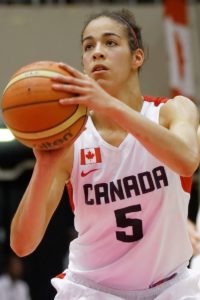 According to Doug Feinberg of CBC Sports on Wednesday, point guard Kia Nurse of Hamilton, Ontario was traded from the New York Liberty to the Phoenix Mercury in a three-way deal, that also included the Seattle Storm. The Liberty will receive power forward Natasha Howard of Toledo, Ohio, from the Storm and Phoenix's sixth-round pick in the 2021 WNBA Draft. Seattle received the Liberty's first-round draft pick in the 2021 WNBA Draft, and the Mercury's first-round pick in 2022 WNBA Draft. The Mercury also received small forward Megan Walker of Richmond, Virginia from the Liberty.
This is the first time in Nurse's WNBA career that she has been traded. The 24-year-old superstar on the Canadian National Women's Basketball Team had played the first three seasons of her WNBA career with the Liberty, the team that drafted Nurse, in the first round, 10th overall, in the 2018 WNBA Draft.
In 2020, Nurse averaged 12.2 points per game, 2.9 rebounds per game, and 2.3 assists per game. The 2019 WNBA All-Star also had a shooting percentage of .273, a three-point percentage of .238, and a three-point percentage of .864.
Howard is joining her fourth WNBA team. In addition to playing for the Storm, she has played with the Indiana Fever and Minnesota Lynx. Like Nurse, Howard was an all-star in 2019, where she averaged a career-high 18.1 points per game, and 8.2 rebounds per game. The 8.2 rebounds per game helped Howard be named the 2019 WNBA Defensive Player of the Year. Howard is also a three-time WNBA champion, as she won the title in 2017 with the Lynx, and in 2018 and 2020 with the Storm.
Walker was the Liberty's pick, ninth overall, in 2020. She averaged only 3.3 points per game last season.