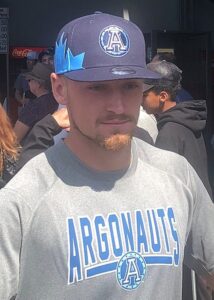 It has been a rather quiet time for three teams in Canadian Football League free agency so far. However, the Calgary Stampeders, Ottawa Red Blacks, and Winnipeg Blue Bombers have each signed a Canadian to date according to cfl.ca. The Stampeders have signed backup quarterback Michael O'Connor of Ottawa, Ontario from the Toronto Argonauts. The Blue Bombers have signed long snapper Mike Benson of Winnipeg, Manitoba from the Ottawa Redblacks. The Redblacks have signed wide receiver Daniel Petermann of Stoney Creek, Ontario from the Winnipeg Blue Bombers.
O'Connor will be backing up Bo Levi Mitchell with the Stampeders. In 2019, the product of the University of British Columbia completed 15 of 25 passes for 173 yards and one touchdown, along with one rushing yard.
Benson will be joining his fourth Canadian Football League team. In addition to the Redblacks (2019), he has played with the Edmonton Football Team (2012 to 2013), and the British Columbia Lions (2014 to 2018). In 2017, Benson recorded his lone CFL touchdown on a fumble recovery for the Lions in a game against Edmonton.
Petermann caught 15 passes for 118 yards and one touchdown with the Blue Bombers in 2019. For his career, which started in 2018, he has 25 catches for 272 yards and two touchdowns. Petermann also won a Grey Cup with Winnipeg in 2019.