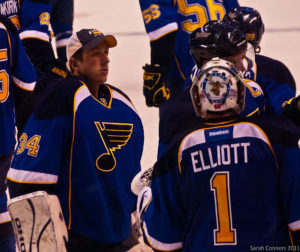 Jake Allen of Fredericton, New Brunswick recorded his second shutout of the 2018-19 National Hockey League regular season on Saturday as the St. Louis Blues defeated the Colorado Avalanche 3-0 at the Pepsi Center in Denver, Colorado. It was also Allen's 18th career NHL shutout.
Allen made 32 saves in St. Louis's victory. He made eight saves in the first period, 11 saves in the second period and 13 saves in the third period. With the shutout, he improves to a record of 17 wins, 15 regulation losses and four losses in extra time. Allen has a goals against average of 2.98 and a save percentage of .901.
In the Blues win over the Avalanche, Jaden Schwartz of Melfort, Saskatchewan scored one of the three Blues goals. Meanwhile, Ryan O'Reilly of Clinton, Ontario and Brayden Schenn of Saskatoon, Saskatchewan recorded assists on the game winning goal by Vladimir Tarasenko at 4:01 of the third period. Tyler Bozak of Regina, Saskatchewan notched an assist on the 3-0 Blues goal scored by Schwartz with 1:36 left in the game.
Even though Allen recorded a shutout on Saturday, he has moved into the backup role on the Blues depth chart when it comes to goaltending. That is because Jordan Binnington of Richmond Hill, Ontario has been absolutely amazing in his rookie season with St. Louis.