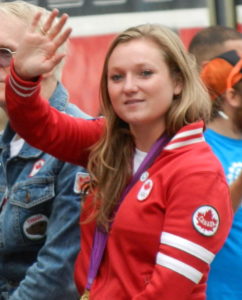 Two-time Canadian Olympic gold medalist Rosannagh MacLennan of King City, Ontario won the silver medal in the first World Cup women's trampoline competition of the 2019 season. MacLennan placed second in Baku, Azerbaijan on Sunday.
MacLennan posted a silver medal winning score of 56.245 points. Lingling Liu of China won the gold medal with 57.05 points. Chisato Doihata of Japan won the bronze medal with 55.8 points.
MacLennan reached the podium by 1.595 points over Maryia Makharynskaya of Belarus, who finished in fourth place with 54.65 points. One could argue that MacLennan has been Canada's top consistent female summer athlete over the last decade. She won a gold medal in women's trampoline at the 2012 Olympic Games in London and then again at the 2016 Olympic Games in Rio de Janeiro. 
This is the first of four World Cup trampoline competitions in 2019. The others take place in Minsk, Belarus on April 20, Khabarovsk, Russia on September 21 and in Valladolid, Spain on October 5. The World Cups will precede the 2019 World Trampoline Championships in Tokyo, Japan from November 28 to December 1. This will be a major test for the best trampolinists in the world because Tokyo is hosting the 2020 Olympic Games next summer. There is no doubt that MacLennan is in top form right now with 17 months into her fourth Olympic Games.