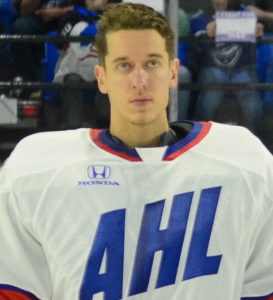 The St. Louis Blues are on an amazing run at the present time when it comes to goals against. In their last three games, they have not given up a single goal. On Sunday, Jordan Binnington of Richmond Hill, Ontario notched his fourth shutout of the season as the Blues blanked the Minnesota Wild 4-0. During the streak, Binnington also shutout the Arizona Coyotes 4-0 on February 14 and Jake Allen of Fredericton, New Brunswick shutout the Colorado Avalanche 3-0 on February 16.
Binnington made 31 saves in the Blues win over the Wild on February 17. He made five saves in the first period, nine saves in the second period and 17 saves in the third period. From an offensive perspective, five Canadian Blues players registered a point, with three Canadian Blues having a multi-point game. Brayden Schenn of Saskatoon, Saskatchewan, Canadian Olympic gold medalist Alex Pietrangelo of King City, Ontario and Ryan O'Reilly all had two points. Schenn had O'Reilly each had one goal and one assist, and Pietrangelo had two assists. Meanwhile, Vince Dunn of Lindsay, Ontario had a goal and Robert Thomas of Aurora, Ontario had an assist.
On the season, Binnington now has a record of 12 wins, one regulation loss, one loss in extra time, four shutouts, a goals against average of 1.58 and a save percentage of .937. The Blues have also tied a franchise record for winning 10 straight games. They have 67 points and are third place in the Central Division.