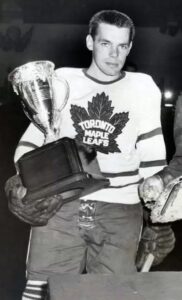 Former Toronto Maple Leafs right winger Howie Meeker of Kitchener, Ontario passed away at the age of 97 according to the Canadian Press on Sunday. Meeker played eight seasons for the Maple Leafs from 1946 to 1954. In 1947, Meeker won the Calder Trophy for the NHL's rookie of the year. He also played in three straight National Hockey League All-Star Games from 1947 to 1949, and won three Stanley Cups with the Maple Leafs in 1947, 1948 and 1951.
Meeker is best known for one NHL game he played. On January 8, 1947, Meeker scored five goals in a 10-4 Maple Leafs win over the Chicago Black Hawks. In the process, Meeker set the NHL record for most goals in one game by a rookie. The performance that night was a major reason why he beat Gordie Howe of Floral, Saskatchewan to win the Calder Trophy. In 1947, Meeker had 27 goals and 18 assists for 45 points. He also had 76 penalty minutes, six power play points, and eight game winning goals, which was second in the NHL that season. The NHL leader in game winning goals in 1946-47 was Maurice Richard of Montreal, Quebec, who had 10 game winning goals with the Montreal Canadiens.
In 346 games in the regular season, Meeker had 83 goals and 102 assists for 185 points. He had 329 penalty minutes, 38 power play points, two shorthanded points, and 20 game winning goals. It is fascinating that 24.1% of Meeker's total number of regular season goals were game winners.
In the playoffs, Meeker had six goals and nine assists for 15 points in 50 games. He also had 50 penalty minutes and one game winning goal. Meeker's postseason game winner was also his first ever Stanley Cup playoff goal. It came on March 26, 1947 in a 3-2 Maple Leafs win over the Detroit Red Wings in game one of the 1947 Stanley Cup semifinals.
After his playing career, Meeker was the head coach of the Maple Leafs for one season in 1956-57. The Maple Leafs had a record of 21 wins, 34 losses, and 15 ties for 57 points.
Meeker is also widely known as being a Hockey Hall of Fame broadcaster. Known for his entertaining analysis during the intermissions, Meeker joined CBC Hockey Night in Canada in 1970 and was with them until 1986, when he joined TSN in 1987. He was with TSN until 1998.
Meeker was inducted into the Hockey Hall of Fame in 1998 as a broadcaster. Then in 2010, Meeker received the Order of Canada and was inducted into the Ontario Sports Hall of Fame.