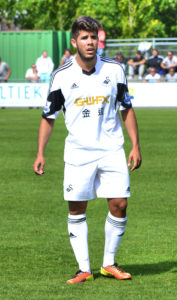 According to the Canadian Press on Monday, Toronto FC attacking midfielder Alejandro Pozuelo of Seville, Spain has won the 2020 Major League Soccer Landon Donovan Most Valuable Player Award. Pozuelo led Major League Soccer this past season with five game-winning goals and eight assists. He also had nine goals, which was the eighth most in Major League Soccer during the regular season.
Pozuelo becomes the second player in the history of Major League Soccer to win the award while playing the full season for a Canadian team. In 2015, the award was presented to Toronto FC forward and attacking midfielder Sebastian Giovinco of Turin, Italy. Giovinco currently plays for Al Hilal SFC in Saudi Arabia.
It should be noted that attacking midfielder and forward Dwayne De Rosario of Scarborough, Ontario won the 2020 MLS Landon Donovan Most Valuable Player Award as well in 2011. That season, he played with Toronto FC, the New York Red Bulls, and D.C. United. In scoring 16 goals and 12 assists nine years ago, De Rosario became the first and only Canadian to ever win the award.
In the 2020 MLS regular season, Toronto FC finished in second place in the Eastern Conference with a record of 13 wins, five draws, and five losses for 44 points. However, the regular season success did not continue into the postseason for Toronto FC in 2020, as they were dominated by Nashville SC in a 1-0 loss in the Eastern Conference quarterfinals on November 24.