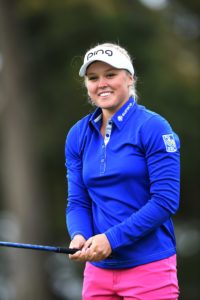 Brooke Henderson of Smiths Falls, Ontario has won her first match of the 2023 Bank of Hope LPGA Match Play event in Las Vegas, Nevada on Wednesday. She defeated Yaeeun Hong of South Korea in the second of 16 groups 3&2, for her first matchplay win of her career in the history of the tournament.
Hong began the match and went 1-up by recording a birdie on the first hole. Henderson immediately evened the match with a birdie on the second hole. The next four holes both players registered scores of par, before Henderson had a birdie and Hong had a bogey on the seventh hole. On the eighth hole, Hong evened the match with a birdie. That was followed by two consecutive birdies on the ninth and 10th holes for Henderson to go 2-up, and and another birdie on the 12th hole to go 3-up. Henderson lost the 14th hole with a bogey, but restored the three-hole lead with a Hong double bogey on the 16th hole.
One other Canadian is participating this week. That is Maddie Szeryk of London, Ontario, who tied Linn Grant of Sweden on Wednesday.
Henderson next faces Sophia Schubert of the United States on Thursday. This is the third year that the Bank of Hope LPGA Match Play has taken place. Henderson went 0-2-1 in 2021, but did not compete last year.