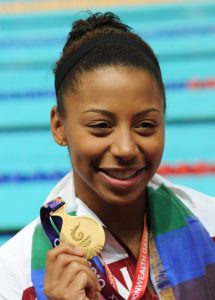 Team Canada won its first medal at the 2017 World Aquatics Championships in Budapest, Hungary on Monday. Melissa Citrini-Beaulieu of St-Constant, Quebec and Olympic bronze medalist Jennifer Abel of Montreal, Quebec won the silver medal in the women's three metree synchronized diving springboard competition.
Abel and Citrini-Beaulieu posted a score of 323.43 points. Chang Yani and Shi Tingmao of China won the gold medal with 333.3 points. Nadezhda Bazhina and Kristina Ilinykh of Russia won the bronze medal with 304.8 points. Abel and Citrini-Beaulieu comfortably earned a medal by 22.2 points. Maddison Keeney and Anabelle Smith of Australia finished in fourth place with 301.23 points.
What was impressive about Abel and Citrini-Beaulieu's performance is that they actually challenged the Chinese. If Chang and Shi had not executed their final dive, Abel and Citrini-Beaulieu could have won the gold medal.
China has not dominated the 2017 World Aquatics Championships in diving. On Saturday, the Chinese duo of Cao Yuan and Xie Siyi had to settle for silver in the men's 10 three metre synchronized springboard diving competition after being beaten by Russians Evgeny Kuznetsov and Ilya Zakharov for the gold medal.
The silver medal for Abel was her fifth career medal at the World Aquatics Championships in events that have full Olympic medal status. She previously won a bronze medal in the women's three metre springboard at the 2011 World Aquatics Championships in Shanghai and a medal at the last three World Aquatics Championships in women's synchronized springboard diving prior to Budapest–silver in Shanghai with Emilie Heymans of St. Lambert, Quebec, bronze in 2013 in Barcelona with Pamela Ware of Greenfield Park, Quebec, and silver in 2015 in Kazan with Ware. The medal for Abel and Citrini-Beaulieu is big for Canadian diving as they prepare for the 2020 Olympic Games in Tokyo.