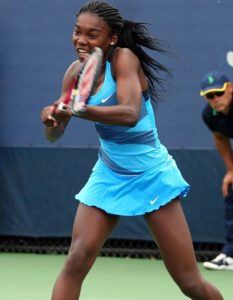 For the second time in her tennis career on Monday, Francoise Abanda of Montreal, Quebec, won a women's singles match at one of the four major tennis tournaments. She defeated Kurumi Nara of Japan very easily 6-2, 6-4.
With most of the attention these days in Canadian women's tennis focused on former Wimbledon finalist and fellow Montrealer Eugenie Bouchard, it is time we started recognizing Abanda.
The 20 year-old reached the Wimbledon draw through qualification, and put together an excellent performance on the Wimbledon grass on Monday. A major reason however for Abanda's success was because Nara had 41 errors (forced and unforced) to Abanda's 32.
Minimizing mistakes will be critical for Abanda as she moves forward in the tournament. Her next match on Wednesday won't be easy as her opponent is reigning French Open champion Jelena Ostapenko of Latvia.
Meanwhile, Bouchard and Denis Shapovalov of Toronto both lost their singles matches on Monday. Bouchard lost a wacky match to Carla Suarez Navarro of Spain. After Bouchard won the first set 6-1, she lost the next two sets 6-1, 6-1. As for Shapovalov, he lost to Jerzy Janowicz of Poland 6-4, 3-6, 6-3, 7-6.
A major reason for Bouchard's loss was unforced errors. She had 24 unforced errors in 88 minutes and was dominated by Suarez Navarro in the final two sets after Bouchard dominated her seeded opponent in the first set.