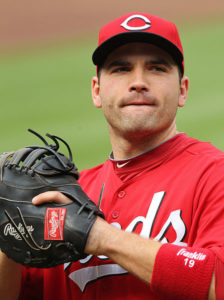 Cincinnati Reds first baseman Joey Votto of Toronto, Ontario has had a great start to the 2017 Major League Baseball season. Now is he getting recognized for it. On Sunday, Votto was named to the National League All-Star Game and on Monday, Votto was named the National League player of the week.
This past week, Votto batted a sensational .524 with three home runs and three doubles. In 21 at bats, Votto had 11 base hits, scored seven runs, had six runs batted in, walked six times and even had one stolen base, his third of the season. Votto also saw his batting average increase from .301 to .317, his on base percentage increase from .412 to .429 and his slugging percentage increase from .584 to .621.
On the season, Votto is second in the National League in home runs with 23. He is only one home run back of Los Angeles Dodgers rookie sensation Cody Bellinger for the senior circuit lead. Votto is also batting an excellent .317 in 290 at bats, with 60 runs, 92 hits, 19 doubles, 59 runs batted in and 56 walks.
Votto is one of two Reds players who will be playing in the All-Star Game next Tuesday in Miami. He will be joined by shortstop Zack Cozart who will be starting for the National League.
Unfortunately for Votto and Cozart, their all-star caliber seasons have not resulted in wins for Cincinnati. With a record of 35 wins and 47 losses, Cincinnati is in last place in the National League Central and are eight and a half games back of the surprising division leading Milwaukee Brewers. No one expected Milwaukee to be leading the NL Central, but they currently have a two and a half game lead on the reigning World Series champion Chicago Cubs.