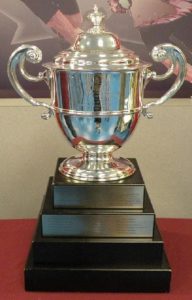 According to Cleve Dheenshaw of the Victoria Times Colonist, the 2020 Minto Cup has been cancelled because of coronavirus. The Minto Cup is awarded to the Canadian junior men's lacrosse team and has been around since 1901.
There have been four other time periods in Canadian lacrosse history that the Minto Cup was not awarded. The first time came from 1916 to 1917 because of World War I. The second time came from 1925 to 1936 when there was no Canadian men's junior lacrosse championship at all, and the Minto Cup was placed in storage by trusteeship. The Minto Cup was also not awarded in 1939 because there was no decision. The fourth time came from 1941 to 1946 because of Word War II.
The Orangeville Northmen won the 2019 Minto Cup as they defeated the Victoria Shamrocks three games to none in a best of five series in Victoria, British Columbia. The Northmen beat the Shamrocks 10-8 in game one, 11-5 in game two, and 7-5 in game three. It was the seventh Minto Cup title for the Orangemen as they previously won in 1993, 1995, 1996, 2008, 2009, and 2012.
The Minto Cup is the second Canadian men's lacrosse tournament to be cancelled in May. The first was the Mann Cup, the Canadian men's senior lacrosse championship, which was cancelled on May 19. There are currently 89,390 cases of coronavirus in Canada and 6979 deaths.