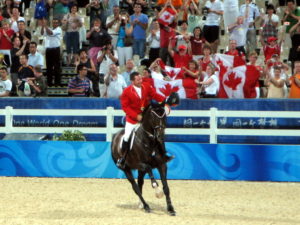 Canadian Olympic gold medalist Eric Lamaze of Montreal, Quebec is one of 11 Canadians to be inducted into Canada's Sports Hall of Fame in 2020. Lamaze, won the gold medal for Canada alongside his horse Hickstead in individual show jumping, at the 2008 Olympic Games in Beijing. 
Lamaze, an equestrian legend, also won two more Olympic medals. He won an Olympic silver medal in team jumping at the 2008 Olympic Games, and a bronze medal in individual show jumping at the 2016 Olympic Games in Rio de Janeiro.
In an interesting statistic, Lamaze is the only Canadian Olympic medalist that will be inducted in 2020. The others are four-time LPGA Tour winner Lorie Kane of Charlottetown, Prince Edward Island, two-time National Basketball Association most valuable player Steve Nash of Victoria, British Columbia, two-time Pan American Games gold medalist and 1978 Commonwealth Games gold medalist Diane Jones-Konihowski of Vancouver, British Columbia (women's pentathlon), three-time Paralympic Winter Games gold medalist Sonja Gaudet of Vancouver, British Columbia (women's wheelchair curling), and John Barrett of Halifax, Nova Scotia (Special Olympian gold medalist in powerlifting).
Five more Canadians were inducted into the builders' category. They were Willie O'Ree of Fredericton, New Brunswick (made significant contributions in helping make hockey more diverse for all races), lacrosse coach Ross Powless of Brantford, Ontario, former Commonwealth Games Canada President Judy Kent of Ottawa, Ontario, wheelchair rugby inventor Duncan Campbell of Winnipeg, Manitoba, and sexual abuse victims in sport advocate Sheldon Kennedy of Brandon, Manitoba.