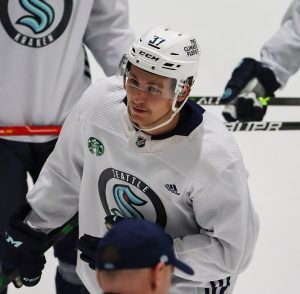 Yanni Gourde of Saint-Narcisse, Quebec scored his first career National Hockey League playoff overtime winner on Tuesday. The centerman for the Seattle Kraken scored an unassisted marker at 12:17 of the first period in extra time to give Seattle a 5-4 win over the Dallas Stars in game one of the Western Conference semifinals.
Gourde was one of four Canadians to score in the contest. He was joined by Jordan Eberle of Regina, Saskatchewan, defenseman Justin Schultz of Kelowna, British Columbia, and Jaden Schwartz of Wilcox, Saskatchewan. Eberle led the Kraken in points with two as he added an assist on a goal by Schwartz.
In eight postseason games for the Kraken, Gourde has two goals and five assists for seven points. He is a +3 with four penalty minutes, two game-winning goals, 12 shots on goal, nine blocked shots, 30 hits, 11 takeaways, and five giveaways. Gourde's other game-winning goal came in the 2023 Stanley Cup Playoffs came on April 26 in game five of the Western Conference first round playoff series between the Kraken and Colorado Avalanche. Gourde scored from defenseman Carson Soucy of Viking, Alberta and Oliver Bjorkstrand at 1:40 of the third period. At the time, the Kraken took a 3-1 lead in a 3-2 victory to take a three games to two series lead.
Joe Pavelski scored all four Dallas goals. He joins Lanny McDonald of Hanna, Alberta as the only players in Stanley Cup Playoff history to score four goals in a game and lose. McDonald scored four times in a 6-5 Toronto Maple Leafs loss to the Philadelphia Flyers on April 17, 1977.