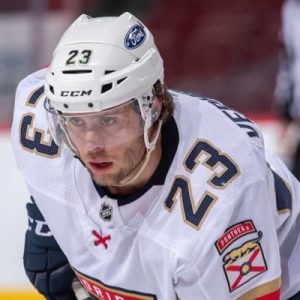 Carter Verhaeghe of Toronto, Ontario set the Florida Panthers franchise record for most career playoff goals on Tuesday. The 27-year-old centerman scored his 11th Panthers postseason goal in a 4-2 Florida win over the Toronto Maple Leafs at the Scotiabank Arena in Toronto, Ontario. With the win, the Panthers took a 1-0 lead over the Maple Leafs in the best out of seven Eastern Conference semifinal in the 2023 Stanley Cup Playoffs.
Verhaeghe's goal on Tuesday was the game-winning goal at 17:47 of the second period from Anthony Duclair of Pointe-Claire, Quebec and Aleksander Barkov. This was the second straight game for the Panthers where Verhaeghe had the game-winning goal. On Sunday in game seven of the Eastern Conference first round series, Verhaeghe scored from Sam Bennett of Holland Landing, Ontario and Matt Tkachuk at 8:35 of the first overtime period as the Panthers stunned the Boston Bruins 4-3.
Of Verhaeghe's 11 career postseason goals, two came in the 2021 Stanley Cup Playoffs, six came in the 2022 Stanley Cup Playoffs, and three came in the 2023 Stanley Cup Playoffs. When Verhaeghe won the 2020 Stanley Cup Final with the Tampa Bay Lightning, he had two assists, but zero goals. Ray Sheppard of Pembroke, Ontario and Dave Lowry of Sudbury, Ontario shared the old Panthers record for most goals in the playoffs with 10.