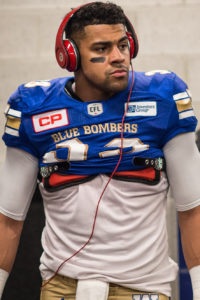 The Winnipeg Blue Bombers and Hamilton Tiger-Cats will be playing in the 108th Grey Cup from Tim Hortons Field in Hamilton, Ontario on Sunday, December 6, 2021. This past Sunday, the Tiger-Cats defeated the Toronto Argonauts 27-19 from Bank of Montreal Field in Toronto, Ontario, while the Blue Bombers defeated the Saskatchewan Roughriders 21-17 from Investors Group Field in Winnipeg, Manitoba.
In the East Final, the Tiger-Cats dominated the Argonauts in the second half. After being shutout 12-0 by Toronto in the first half, the Tiger-Cats outscored the Argonauts 27-7 in the final 30 minutes. A major turning point in the game is when Hamilton head coach Orlando Steinhauer made a change at quarterback in the second quarter. Tiger-Cats quarterback Dane Evans was sensational, as he completed all 16 of his pass attempts for 249 yards and one touchdown. He also had 14 rushing yards and two rushing touchdowns. Jaelon Acklin led the Tiger-Cats with eight catches, 112 receiving yards, and one touchdown catch.
In the West Final, the Blue Bombers played one of the worst games offensively for a winning team during the 2021 season. They won despite committing six turnovers. The Blue Bombers offensive star was Andrew Harris of Winnipeg, Manitoba. Harris had 23 carries for 136 yards and one touchdown. Harris's major score came with 1:39 left in the third quarter. It was a three-yard touchdown, which put Winnipeg up 14-10 at the time.