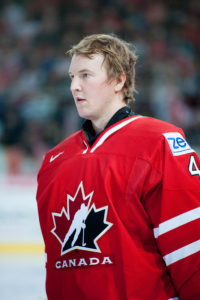 The Minnesota Wild have traded Devan Dubnyk of Regina, Saskatchewan to the San Jose Sharks according to the Associated Press on Monday. Dubnyk, a goaltender, was traded alongside a seventh round draft pick in the 2022 National Hockey League Entry Draft for a fifth round draft pick in the 2022 NHL Draft.
Dubnyk struggled with the Wild in 2019-20, as he lost his starting job to Alex Stalock of St. Paul, Minnesota. In 30 games, Dubnyk had a record of 12 wins, 15 regulation losses, and two losses in extra time, with a poor goals against average of 3.35 and a save percentage of .890.
The Sharks become Dubnyk's fifth National Hockey League team. In addition to the Wild, Dubnyk has played for the Edmonton Oilers, Nashville Predators and Arizona Coyotes.
It was during his time in Minnesota where Dubnyk was by far at his best. In his first season in Minnesota, he posted a record of 27-9-2 in 2014-15, and won the Masterton Trophy, with a goals against average of 1.78 and a save percentage of .936. He would go on to be an all-star with the Wild in 2016, 2017 and 2019. Dubnyk represented the Wild in the 2019 NHL All-Star Game even though he led the NHL in regulation losses with 28.
Dubnyk is expected to be the Sharks backup goaltender in 2020-21. Martin Jones of Vancouver, British Columbia is under contract through to 2023-24, while Aaron Dell of Airdrie, Alberta is an unrestricted free agent.
The trade involving Dubnyk was one of two trades between the Sharks and Wild on Monday. The other deal saw Ryan Donato move from Minnesota to San Jose for a third round draft pick in the 2021 NHL Draft.