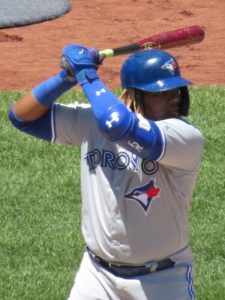 It was an historic night in Major League Baseball on Tuesday. Toronto Blue Jays star first baseman Vladimir Guerrero Jr. of Montreal, Quebec became the youngest most valuable player in Major League Baseball All-Star Game history. At the age of 22 years and 119 days old, Guerrero was 117 days younger when Ken Griffey Jr. won the award while with the Seattle Mariners at 22 years and 236 days old in 1992 according to Reuters.
Guerrero went one for three at the plate with a home run and two runs batted in. His home run went 468 feet and at the time put the American League up 2-0 at the time. Guerrero then recorded a second RBI in the fifth inning, which scored Guerrero's Blue Jays teammate Teoscar Hernandez. The RBI single put the American League up 3-0.
Guerrero Jr. also hit the 200th home run in Major League Baseball All-Star Game history, and was the first Blue Jays player to be named the most valuable player of the All-Star Game. The American League went on to win the game by a score of 5-2.
Now Guerrero's focus will be on guiding the Blue Jays to a postseason berth. They are currently four and a half games back of the Oakland Athletics for the final wildcard spot. The Blue Jays offense has been sensational this season, and their starting pitching has been above average. The weakness on the squad is their bullpen, which has been completely awful as a unit. This is what Blue Jays general manager Ross Atkins needs to fix the most.