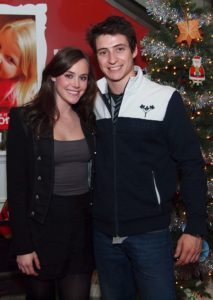 Tessa Virtue and Scott Moir of London, Ontario won the 2017 NHK Trophy in ice dance in Osaka, Japan on Sunday. It was Virtue and Moir's second International Skating Union Grand Prix victory of the season as they also won Skate Canada on October 28 in Regina, Saskatchewan.
Virtue and Moir posted a score of 117.72 points. Madison Hubbell and Zachary Donohue of the United States won the silver medal with 112.04 points. Anna Cappellini and Luca Lanotte of Italy won the bronze medal with 110.69 points.
Virtue and Moir reached the podium by 13.06 points. Victoria Sinitisina and Nikita Katsalapov of Russia finished in fourth place with a score of 104.66 points.
This will be the first of three trips this season Virtue and Moir will be making to Asia. By winning the NHK Trophy, they have qualified for the International Skating Union Grand Prix Final in figure skating, which will take place in Nagoya, Japan starting December 7. Virtue and Moir will then return to Asia in February in an attempt to win their second career gold medal at the 2018 Olympic Winter Games in Pyeongchang.
Other winners in Osaka included Sergei Voronov of Russia (men's), Evgenia Medvedeva of Russia (women's) and Wenjing Sui and Cong Han of China (pairs). There is no doubt that Medvedeva, like Virtue and Moir, are the favourites to win Olympic gold.