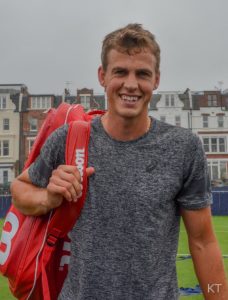 Vasek Pospisil of Vernon, British Columbia is in his second semifinal of 2020 on Friday and eighth semifinal overall on the ATP Tour. On Thursday, Pospisil reached the final four of the Sofia Open in Bulgaria after defeating sixth-seed John Millman of Australia, 6-3, 6-2.
Pospisil definitely had the edge over Millman when it came to his serve. He had four aces, while Millman had none. Pospisil also won 86% of his points on his first serve, while Millman only won 39% of the total points on his second serve. Pospisil was also able to break Millman's serve four times, while Millman only broke Pospisil's serve once.
Pospisil will now play three-time grand slam semifinalist Richard Gasquet of France in the semifinals. Gasquet reached the final four of Wimbledon in 2007 and 2015, and the final four of the U.S. Open in 2013.
This will be the sixth time that Pospisil has played Gasquet, with Pospisil having the 3-2 edge. Pospisil's wins over Gasquet came in the first round of the 2013 Shanghai Masters, the semifinals of Washington in 2014, and the quarterfinals of Montpellier this past February.
The winner of Pospisil/Gasquet will play young Italian sensation Jannik Sinner in the final on Saturday. Sinner beat fifth seed Adrian Mannarino of France 6-3, 7-5 in the other semifinal on Friday.