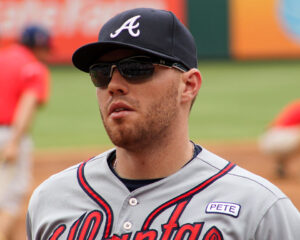 Atlanta Braves first baseman Freddie Freeman has been named the National League Most Valuable Player. On Thursday, Freeman received 28 of 30 first place votes to beat Mookie Betts of the Los Angeles Dodgers and Manny Machado of the San Diego Padres.
Even though Freeman was born in the United States, he represents Canada internationally because his parents are Canadian. His father is from Windsor, Ontario, and his late mother was from Peterborough, Ontario.
In 2020, Freeman led Major League Baseball with 51 runs scored and 23 doubles. In 214 at bats, he had 73 hits, 13 home runs, one triple, 53 runs batted in, two stolen bases, 45 walks, 137 total bases, a batting average of .341, an on base percentage of .462, and a slugging percentage of .640.
Freeman became the sixth Braves player in franchise history to be named the National League Most Valuable Player. The previous five were third baseman Bob Elliott of San Francisco, California (1947), outfielder Hank Aaron of Mobile, Alabama (1957), outfielder Dale Murphy of Portland, Oregon (1982 and 1983), third baseman Terry Pendleton of Los Angeles, California (1991), and third baseman Chipper Jones of DeLand, Florida. At the time, Elliott played for the Boston Braves, and Aaron played for the Milwaukee Braves.
Now it will be interesting to see if Freeman would be considered for the Lou Marsh Award or Lionel Conacher Award in 2020. According to Sam Galanis of NESN, and Andrew Joseph of USA Today, Freeman has dual citizenship.
Freeman is now the fourth Canadian to win a Major League Baseball Most Valuable Player Award. He follows Larry Walker of Maple Ridge, British Columbia (National League MVP with the Colorado Rockies in 1997), Justin Morneau of New Westminster, British Columbia (American League MVP with the Minnesota Twins in 2006), and Joey Votto of Toronto, Ontario (National League MVP with the Cincinnati Reds in 2010).