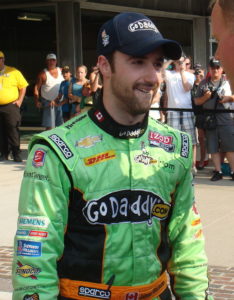 There will be two Canadian IndyCar drivers for the 2020 season. They are James Hinchcliffe of Oakville, Ontario, and rookie driver Dalton Kellett of Stouffville, Ontario.
However, neither of the Canadian drivers have full-time rides this season. Hinchcliffe is rejoining Andretti Autosport in 2020, after being with them from 2012 to 2014. Over the last five years, he had been with Schmidt Peterson Autosports. In 2019, Arrow Electronics became the title sponsor for the team.
It should be noted that Hinchcliffe has won six times on the IndyCar circuit. But three of those times came in 2013 with Andretti Autosport, when he won in St. Petersburg, Florida, Sao Paulo, Brazil and Newton, Iowa. During the 2013 season, Hinchcliffe finished eighth in the IndyCar standings.
Hinchcliffe's other three titles came with Schmidt Peterson. In 2015, he won the Indy GrandPrix of Lousiana in New Orleans, the 2017 Toyota Grand Prix of Long Beach in California, and then the 2018 Iowa 300, as he won in Newton for a second time in his career.
Hinchcliffe's return to Andretti Autosports will see him compete in a minimum of two races. The first will be the Genesys 300 at the Texas Motor Speedway in Fort Worth on Saturday, and the second will be at the GMR Grand Prix in Indianapolis, Indiana on July 4. He will also try to qualify for the 2020 Indianapolis 500 on August 23.
Hinchcliffe will be the only non-American driver for Andretti Autosport in 2020. He will be joined by Zach Veach of Stockdale, Ohio, Alexander Rossi of Nevada City, California, Ryan Hunter-Reay of Dallas, Texas, Colton Herta of Valencia, California, and Marco Andretti of Nazareth, Pennsylvania. Hunter-Reay won the IndyCar Series title in 2012 and the Indianapolis 500 in 2014, while Rossi won the Indianapolis 500 in 2016.
Kellett is set to compete for A.J. Foyt Enterprises alongside Charlie Kimball of Camarillo, California, Tony Kanaan of Salvador, Brazil, and Sebastien Bourdais of Le Mans, France. Bourdais won four consecutive Champ Car World Series seasons from 2004 to 2007, and Kanaan won the 2004 IndyCar season and the 2013 Indianapolis 500.
Kellett is expected to be in a minimum of seven IndyCar races this season, and like Hinchcliffe, try to qualify for the Indianapolis 500. Kellett is set to compete in the GMR Grand Prix on July 4, the REV Group Grand Prix of Road America in Elkhart Lake, Wisconsin on July 11 and July 12, the Honda Indy 200 in Lexington, Ohio on August 9, the IndyCar Monterey Grand Prix on September 19 and 20, and the Indycar Harvest Grand Prix in Indianapolis on October 3.