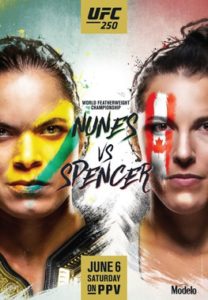 Felicia Spencer of Montreal, Quebec has the chance of doing something extraordinary special Saturday night at the UFC APEX Facility in Las Vegas, Nevada. If she somehow finds a way to beat Brazilian Amanda Nunes, she will become the UFC's women's featherweight champion.
The women's featherweight division is for athletes between 136 and 145 pounds. Spencer has a career record of eight wins and one loss, and was initially set to fight Nunes on May 9. However, Nunes asked, and was granted a little more time to prepare for her bout. On April 20, it was announced the fight would be moved to June 6.
Spencer's only professional loss came on July 27, 2019, when she was beaten in the third round via unanimous decision by Cris Cyborg of Brazil at UFC 240 in Edmonton, Alberta. However, Spencer came back on February 29 with a knockout win over Zarah Fairn dos Santos of France in Norfolk, Virginia.
Despite losing four times in her UFC career, Nunes is the current title-holder. She has won her last 10 fights and has a career record of 19 wins and four defeats. Of her 19 wins, 13 have been via knockout. Her last loss came on September 27, 2014, when she was beaten by Cat Zingano of Winona, Minnesota in the third round via knockout in UFC 178 in Las Vegas.
Of Nunes's 19 career victories, one has come in Canada. That came on September 9, 2017 when she beat Valentina Shevchenko of Peru via decision in Edmonton. All of Spencer's eight prior UFC wins have been in the United States.