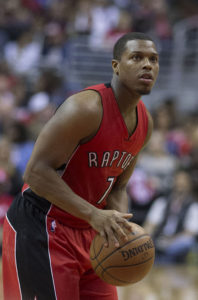 The Toronto Raptors have forced a seventh and deciding game in the Eastern Conference semifinals of the 2020 National Basketball Association playoffs. On Wednesday from the Orlando bubble, Kyle Lowry scored 33 points as the Raptors defeated the Boston Celtics 125-122 in double overtime. The series is now tied at three games apiece.
In the process, there was a NBA record for most players with 50+ minutes in a playoff game with eight according to the Elias Sports Bureau. Of the eight, four were with the Raptors. Pascal Siakam played 54 minutes. Lowry played 53 minutes, Fred VanVleet played 51 minutes, and OG Anunoby played 50 minutes.
However, it was the play of Norman Powell. who deserved high praise. Powell, who played 38 minutes, set the Raptors playoff record for most points in a single overtime period with 10. He accomplished the feat in the second overtime according to ESPN.
In another interesting statistic courtesy of ESPN, the Raptors have become the third team in NBA history to win game six of a series in multiple overtimes while facing elimination. The other two teams were the Milwaukee Bucks in 1974 and the Chicago Bulls in 2009. Interestingly, the Bucks and Bulls were both beaten in game seven by the Celtics.
Offensively for the Raptors on Thursday, six players reached double digits in scoring. In addition to 35 points for Lowry, Powell had 23 points, VanVleet had 21 points, Serge Ibaka and Anonoby had 13 points each, and Siakam had 12 points. Anunoby had a double double as he also had 13 rebounds.