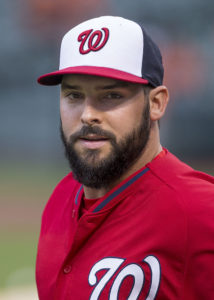 The Toronto Blue Jays signed starting pitcher Tanner Roark of Wilmington, Illinois from the Oakland Athletics on Wednesday. Roark signed a two year contract worth $24 million.
Roark combined his time last season with the Cincinnati Reds and Athletics. He had are record of 10 wins and 10 losses with an earned run average of 4.35. In 31 games (all starts), Roark pitched in 165.3333 innings pitched. He had 158 strikeouts compared to 51 walks, and gave up 180 hits and 80 earned runs. Roark's WHIP (walks and hits per innings pitched) was a poor 1.40 however.
The Blue Jays become the fourth team Roark has played for. In addition to the Reds and Athletics, Roark played six seasons with the Nationals. In 2018, Roark had the distinction of leading the National League with 15 losses.
Roark becomes the second pitcher the Blue Jays have acquired in the 2019 Major League Baseball offseason. The first was Chase Anderson of Wichita Falls, Texas, who the Blue Jays acquired in a trade with the Milwaukee Brewers for first base prospect Chad Spanberger on November 4. Anderson had a record of eight wins and four losses and an earned run average of 4.21 with the Brewers in 2019.
Roark and Anderson will be part of the Blue Jays starting pitching rotation in 2019. Right now, Anderson, Roark and Matt Shoemaker of Wyandotte, Michigan, would be the top three starters.