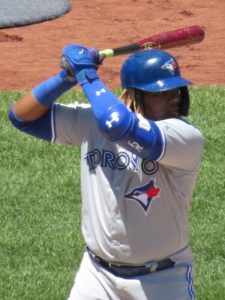 The Toronto Blue Jays are in the Major League Baseball playoffs for the eighth time in franchise history. On Thursday, the Blue Jays beat the New York Yankees 4-1 from their temporary home in Buffalo, New York. With the win, the Blue Jays are guaranteed to be in the top eight in the American League this season.
A major reason for the Blue Jays success on Thursday was the play of first baseman Vladimir Guerrero Jr. of Montreal, Quebec. Guerrero hit his eighth home run of the year in the second inning to open the scoring in the baseball game. He also led the Blue Jays with two runs scored and three hits.
Meanwhile, it was a stellar performance by Blue Jays starting pitcher Hyun-Jin Ryu. For the first time this season, a Blue Jays pitcher went seven innings, and Ryu did not give up a run. He gave up five hits and two walks along with four strikeouts.
The Blue Jays currently have a record of 30 wins and 27 losses, and are the eighth seed in the American League despite having the seventh best record in the junior circuit. They can still catch the New York Yankees for the fifth seed. The Blue Jays play the Baltimore Orioles this weekend, while the Yankees play the Miami Marlins.
Previously the Blue Jays made the playoffs in 1985, 1989, 1991, 1992, 1993, 2015 and 2016. It was easier for Toronto to reach the postseason in 2020 as 16 teams qualified for the playoffs instead of 10.