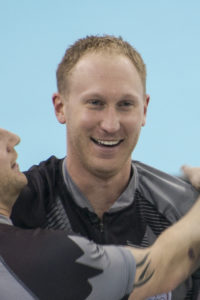 Three of the four teams for the playoffs have been decided at the 2018 Tim Hortons Brier in Regina. Ontario's John Epping, Northern Ontario's Brad Jacobs and Team Canada's Brad Gushue are all at 8-1 and have booked their tickets for weekend games.
All three teams won twice on Thursday. Epping's Team Ontario defeated Mike McEwen's wildcard team out of Winnipeg 8-7 and Jamie Murphy of Nova Scotia 8-6. Jacobs's Team Northern Ontario defeated Nova Scotia 6-4 and McEwen 8-1. Gushue's Team Canada defeated Reid Carruthers of Manitoba 7-2 and Steve Laycock of Saskatchewan 5-4 in 11 ends.
Epping came back twice on Thursday. He was down 7-4 to McEwen after eight ends, but picked up a deuce in the ninth and stole two in the tenth when McEwen was heavy with his final stone in drawing for the win.
McEwen's error in the afternoon against Epping seemed to deeply effect him for his evening match against Jacobs. In the first end of his evening draw, he gave up an unprecedented six points in the seven point loss.
Meanwhile, Alberta's Brendan Bottcher controls his own destiny on Friday. He only needs to win one game to qualify for Saturday's playoffs and knock out McEwen, Manitoba and Saskatchewan in the process. Bottcher's opponents on Friday are Epping and Jacobs. Two wins for Bottcher on Friday and he is in Saturday night's 1-2 game.