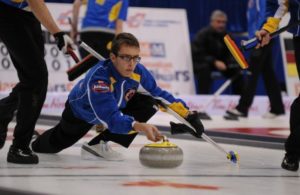 There is no doubt that Alberta's Brendan Bottcher has a lot to be excited about regarding his curling performances at the 2018 Tim Horton's Brier in Regina, Saskatchewan on Wednesday. His victories to conclude Pool A at the Brier were statement victories and proved to the Canadian curling scene that he could be a force to be reckoned with, not just in the future, but the present.
In the morning, Bottcher's Team Alberta rink beat the reigning world champion Brad Gushue of St. John's, Newfoundland 10-7 and in the evening, Bottcher hammered Mike McEwen's wildcard rink 9-2.
Ok, one could argue that Bottcher got lucky in his Wednesday win over McEwen. Twice during the game, McEwen did not generate points with his final stone. He came up light in the fifth end and gave up a deuce and then came up light again in the sixth end and gave up five. It is highly predictable that McEwen will not pick the yellow rocks from sheet B if he is fortunate enough to play on the weekend.
It appears that Bottcher's team is for real. Bottcher's third Darren Moulding of Calgary, has excellent upweight mobility and power in his shot making ability, which could come in handy in circumstances when Team Alberta's front end struggles.
Heading into the championship pool play, there is a four-way tie for the lead between Alberta, Canada, Northern Ontario and Ontario. The Manitoba teams skipped by McEwen and Reid Carruthers are 5-2. Saskatchewan and Nova Scotia are the other teams that have advanced to championship pool play as they are each 4-3.