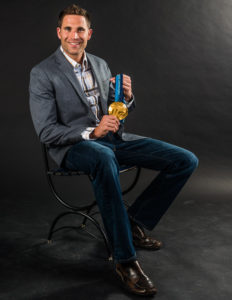 A total of three Canadian Olympic gold medalists have advanced to the 1-2 page playoff game of the 2018 Canadian Mixed Doubles Olympic Curling Trials in Portage La Prairie, Manitoba.John Morris of Kelowna, British Columbia, who won a gold medal with skip Kevin Martin at the 2010 Olympic Winter Games in Vancouver, has teamed up successfully with Kaitlyn Lawes of Winnipeg, Manitoba, who won a gold medal with skip Jennifer Jones at the 2014 Olympic Winter Games in Sochi. Meanwhile, Brad Gushue, who won a gold medal in men's curling at the 2006 Olympic Winter Games in Turin, has made the successful adjustment to mixed doubles curling with Val Sweeting of Edmonton, Alberta.
On Friday, Morris and Lawes beat Edmonton's Dana Ferguson and Brendan Bottcher 8-6 and then Jocelyn Peterman of Red Deer, Alberta and Brett Gallant of Charlottetown, Prince Edward Island 7-5. Meanwhile, Sweeting and Gushue beat Laura Crocker of Edmonton and Geoff Walker of Beaverlodge, Alberta 7-4 and then Canadian Olympic gold medalists Jennifer Jones of Winnipeg and Mark Nichols of Labrador City, Newfoundland 10-3.
On Saturday morning, Jones and Nichols will play Chelsea Carey of Calgary and Colin Hodgson of Winnipeg. Peterman and Gallant will play Winnipeg's Jill Officer and Reid Carruthers to finish up the double knockout portion of the tournament. The winners advance to the 3-4 page playoff game and the losers will be eliminated. The winner of the page playoff tournament on Sunday will represent Canada in mixed doubles at the 2018 Olympic Winter Games in Pyeongchang.