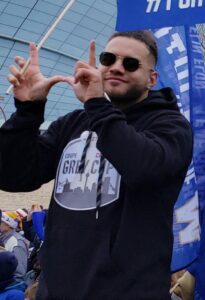 Three Canadians recorded touchdowns on winning teams in week 17 of the 2023 Canadian Football League regular season. They were Winnipeg Blue Bombers running back Brady Oliveira of Winnipeg, Manitoba, Hamilton Tiger-Cats running back Sean Thomas-Erlington of Montreal, Quebec, and Montreal Alouettes wide receiver Tyson Philpot of Delta, British Columbia.
On Friday, Oliveira scored the game-winning touchdown in overtime in a 34-26 Blue Bombers win over the British Columbia Lions. It was an eight-yard run. He finished the game with eight catches for 85 yards, and 12 rushes for 73 yards. In 2023, Oliveira has 239 rushes for 1432 rushing yards and seven touchdowns, along with 37 catches for 465 receiving yards and four touchdowns. With the win, the Blue Bombers moved into first place in the Western Division at 12 wins and four losses.
On Saturday. Thomas-Erlington caught an eight-yard touchdown pass from quarterback Matthew Shiltz in a 38-13 Tiger-Cats win over the Saskatchewan Roughriders. At the time, the Tiger-Cats took a 21-0 lead with five minutes and 35 seconds left in the first half. Thomas-Erlington finished the game with four catches for 32 receiving yards. In 2023, he has seven catches for 80 receiving yards and four rushes for eight yards. With the win, the Tiger-Cats improved to a record of eight wins and eight losses and are third in the Eastern Division.
Then on Monday, Philpot caught a 38-yard touchdown pass from quarterback Cody Fajardo in a 29-3 Alouettes win over the Ottawa Redblacks. The touchdown came with six minutes and 42 seconds left in the first half and put the Alouettes up 7-0. In the game, Philpot had six catches for 90 yards and seven yards rushing. On the season, Philpot has 41 catches for 478 receiving yards and three touchdowns, along with two rushes for nine rushing yards. With the win, the Alouettes moved into second place in the Eastern Division at nine wins and seven losses.