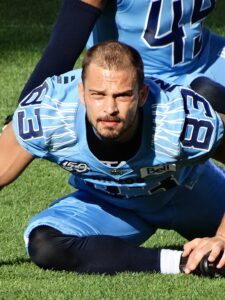 Three Canadians recorded week six touchdowns this past weekend on winning teams. Stavros Katsantonis had a 33-yard interception return for the Hamilton Tiger-Cats in a 37-29 win over the Edmonton Elks on Thursday. David Ungerer had a 15-yard touchdown catch and a 37-yard touchdown catch from quarterback Chad Kelly in a 35-27 Toronto Argonauts win over the Montreal Alouettes on Friday. Luther Hakunavanhu had a 14-yard catch from quarterback Jake Maier in a 33-31 Calgary Stampeders win over the Saskatchewan Roughriders on Saturday.
Katsantonis's interception return for a touchdown came four minutes and 51 seconds into the third quarter. It was on a pass by Elks quarterback Taylor Cornelius, and put the Tiger-Cats up 23-13 at the time. This was Katsantonis's first interception of his CFL career. He had two special team tackles earlier in the season. Katsantonis was born in the United States but is Canadian because his father is a Canadian citizen. He also attended the University of British Columbia and won a Vanier Cup with the Thunderbirds in 2015,
Ungerer III is  a native of Pullman, Washington, but is considered Canadian because his mother was born in St. Catharines, Ontario. In Toronto's win over Montreal, Ungerer III had four catches for 72 yards. For the season he has nine catches for 161 yards and three touchdowns. Ungerer III spent three seasons with the Tiger-Cats prior to joining the Argonauts this year.
Hakunavanhu was born in Zimbabwe, raised in Edmonton, and went to school at York University. His touchdown on Saturday put the Stampeders up 20-10 at the time, and came with four seconds left in the first half. On the season, Hakunavanhu has 10 catches for 168 yards and one touchdown, including five catches for 94 yards against the Roughriders on Saturday. In three seasons with the Stampeders, he has 44 catches for 699 receiving yards and six touchdowns.