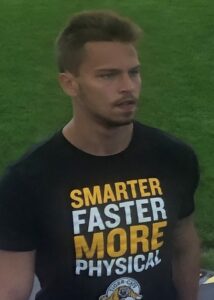 Three Canadian Football League players recorded touchdowns this past weekend in week five for winning teams of the CFL regular season. The three Canadians were Nic Demski of Winnipeg, Manitoba, Mike Jones of Toronto, Ontario, and David Ungerer III.
Demski, a wide receiver for the Winnipeg Blue Bombers, had three catches for 41 yards and a touchdown in a 23-8 Blue Bombers win over the Saskatchewan Roughriders on Sunday. Demski's touchdown from Zach Collaros came with five minutes and 12 seconds left in the fourth quarter, which closed out the scoring. With the win, Winnipeg improved to a record of four wins and one loss, and lead the West Division.
Ungerer III, a wide receiver for the Hamilton Tiger-Cats, is a Canadian citizen due to the fact his mother was from St. Catharines, Ontario. On Labour Day Monday, Ungerer III had two catches for 30 yards in a 32-19 Hamilton win over the Toronto Argonauts. Ungerer's touchdown came at 5:02 of the second quarter, when he had a 23-yard catch from quarterback Dane Evans, which put Hamilton up 10-3 at the time. With the win, Hamilton is now at 2-2, and are in a three-way tie for first in the East with Montreal and Toronto.
Jones a wide receiver for the Edmonton Elks, led Edmonton in receiving yards (107) in their 32-20 win over the Calgary Stampeders on Monday. He had four catches, including a 52-yard touchdown catch with three minutes and four seconds left, which put the Elks up 32-20. It was the first time since 2011 that Edmonton beat the Stampeders on Labour Day. The Elks improved to 2-2.