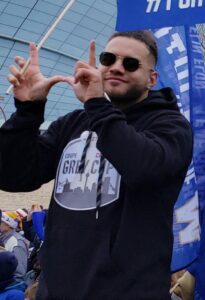 Three Canadians recorded touchdowns on winning teams in Week 20 of the 2023 Canadian Football League regular season. They were Calgary Stampeders wide receiver Luther Hakunavanhu of Edmonton, Alberta, Toronto Argonauts running back Daniel Adeboboye of Mississauga, Ontario, and Winnipeg Blue Bombers Brady Oliveira of Winnipeg Manitoba.
Hakunavanhu had an eight yard touchdown catch from Jake Maier at the end of the first quarter in a 41-16 win over the British Columbia Lions on Friday. In 2023, he has 23 catches for 311 receiving yards and three touchdowns. With the win, and the Toronto Argonauts' 29-26 win over the Saskatchewan Roughriders on Saturday, the Stampeders have clinched the final playoff spot in the West Division.
Adeboboye had nine rushes for 109 rushing yards and one touchdown, alongside three catches for 36 receiving yards. His touchdown was a five yard run with 57 seconds left in the game and gave Toronto a 29-26 win. In 2023, Adeboboye has 38 rushes for 279 rushing yards and one touchdown, alongside four catches for 36 rushing yards. With the win, Toronto improved to a record of 15 wins and two losses, and have the best record heading into the Canadian Football League playoffs.
Oliveira had two touchdowns for Winnipeg on Saturday in a 45-25 win over the Edmonton Elks. The first major score opened the scoring with four minutes and 11 seconds into the game on a three-yard run. The second major score was also a three-yard touchdown run. It came with two minutes and six seconds left in the third quarter, and put Winnipeg up 23-10. Oliveira finished the game with nine rushes for 67 yards and one catch for seven yards. In 2023, Oliveira has 252 rushes for 1498 rushing yards and nine rushing touchdowns, along with 38 catches for 482 receiving yards, and four more touchdown catches. With the win, the Blue Bombers improve to a record of 13 wins and four losses, and clinched first place in the West Division.