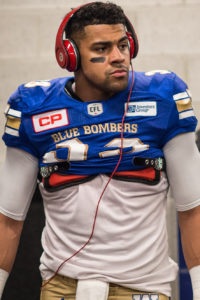 The Canadian Football League finished week 10 of its season on Thanksgiving Monday. In the five games that were played, three Canadians on winning teams found the end zone.
The most prolific Canadian by far was Winnipeg Blue Bombers running back Andrew Harris of Winnipeg, Manitoba. Harris had 24 carries for 150 yards and two touchdowns in a dominant 30-3 Winnipeg win over the Edmonton Elks. Both of Harris's touchdowns came in the fourth quarter. He had a 13-yard run with 7:11 left in the game to put Winnipeg up 23-3, and then a two-yard run to put Winnipeg up 30-3.
Meanwhile, a second Blue Bombers player recorded a touchdown on Friday. Blue Bombers wide receiver Nic Demski of Winnipeg, Manitoba had seven catches for 79 yards and a touchdown. He scored Winnipeg's first touchdown of the game on a 16-yard pass from quarterback Zach Collaros with three minutes and 40 seconds left in the first quarter, which put Winnipeg up 9-0.
The other Canadian to record a touchdown on the weekend for a winning team was Frederic Chagnon of Montreal, Quebec, who recovered the football on a blocked punt for the Toronto Argonauts in a 35-16 win over the Ottawa Redblacks. Chagnon's touchdown was the last major for Toronto. The win over Ottawa was one of two wins for Toronto on the weekend as they also beat the Hamilton Tiger-Cats 24-23 on Monday.