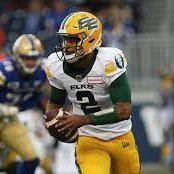 The 11th week of the Canadian Football League regular season concluded on Sunday, and three Canadians contributed to touchdowns on winning teams. Edmonton Elks quarterback Tre Ford of Niagara Falls, Ontario threw two touchdown passes, while two Saskatchewan Roughriders wide receivers found the end zone. They were Kian Schaffer-Baker of Mississauga, Ontario, and Samuel Emilius of Montreal, Quebec.
Ford had two touchdown passes to Steven Dunbar Jr. in a 24-10 Elks win over the Hamilton Tiger-Cats on Thursday. The first major score was for 29 yards with 1:18 left in the first quarter to open the scoring, and the second major score was for nine yards with seven minutes and 11 seconds left in the first half. At the time, Edmonton went up 20-6. Ford completed 13 of 18 passes for 174 yards against Hamilton. He also had five rushes for 60 yards.
After nine straight losses to open the season, Edmonton finally won their first game of the regular season. On the season, Ford has completed 25 passes in 34 attempts for 363 passing yards, and three touchdown passes compared to one interception. He also has 10 rushes for 110 rushing yards and another major score.
Schaffer-Baker meanwhile had a 15 yard touchdown catch from Roughriders quarterback Jake Dolegala, while Emilius had a 37 yard touchdown catch from Dolegala in a 34-29 Roughriders win over the British Columbia Lions on Sunday. Schaffer-Baker's touchdown opened the scoring at the 1:54 mark of the first quarter, and Emilius had his touchdown with four minutes and 26 seconds left in the third quarter. At the time of Emilius's touchdown, the Roughriders took a 30-13 lead. With the win, Saskatchewan improved to the .500 mark at five wins and five losses.
Schaffer-Baker was making his debut for the Roughriders this season as he missed the first nine games while recovering from offseason hip surgery. He had three catches for 36 yards. Emilius had five catches for 106 receiving yards against the Lions. On the season, he has 35 catches for 577 receiving yards and four touchdown catches.