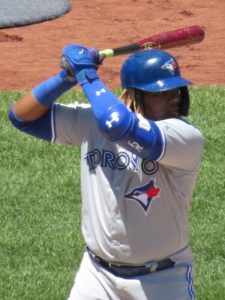 Three Toronto Blue Jays were honoured with Silver Slugger Awards in 2021 on Thursday. They were first baseman Vladimir Guerrero of Montreal, Quebec, second baseman Marcus Semien, and outfielder Teoscar Hernandez. There was a fourth player with a Canadian connection to receive a silver slugger award, as Freddie Freeman of the Atlanta Braves, who competes for Canada internationally and is a Canadian citizen because his parents are from Ontario, was also honoured.
The silver slugger awards are presented to the best hitter at each position in each league. Guerrero, Semien and Hernandez were honoured in the American League. Freeman was honoured in the National League.
Guerrero batted .311 with a Major League leading 48 home runs. He also led the American League with a .401 on base percentage, a .601 slugging percentage, and Major League Baseball with 123 runs scored and 363 total bases. Guerrero also had 188 hits, 29 doubles, one triple, four stolen bases, 86 walks, and 111 runs batted in. At 22 years of age, Guerrero became the youngest Blue Jays player and the youngest first baseman to ever win the Silver Slugger Award according to Thomas Harrigan of mlb.com. 
Semien batted .265 with 45 home runs and 102 runs batted in. He also scored 115 runs, and had 173 hits, 39 doubles, two triples, 15 stolen bases, 66 walks, a .334 on base percentage, a .538 slugging percentage, and 351 total bases.
Hernandez batted .296 with 32 home runs and 116 runs batted in. He also scored 92 runs, and had 163 hits, 29 doubles, 12 stolen bases, 36 walks, a .346 on base percentage, a .542 slugging percentage, and 288 total bases.
Freeman led the National League in runs scored with 120. He also batted .300 with 31 runs scored and 83 runs batted in. Freeman also had 180 hits, 25 doubles, two triples. eight stolen bases, 85 walks, a .393 on base percentage, a .503 slugging percentage, and 302 total bases.