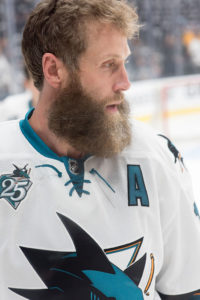 Canadian Olympic gold medalist Joe Thornton of St. Thomas, Ontario led the San Jose Sharks in scoring during game three of the 2019 Western Conference Finals of the National Hockey League Stanley Cup Playoffs on Wednesday. Thornton, who won a gold medal for Canada at the 2010 Olympic Winter Games in Vancouver, led the Sharks with three points as he had two goals and one assist. The Sharks won the game 5-4 in overtime to take a two games to one lead in the best out of seven series.
Thornton notched his first point with a goal at 16:58 of the first period from Canadian Olympic gold medalist Marc-Edouard Vlasic of Montreal, Quebec and Kevin Labanc. The goal put the Sharks up 2-0. Vlasic won a gold medal for Canada at the 2014 Olympic Winter Games in Sochi. 
Thornton then put the Sharks up 3-1 with his fourth goal of the playoffs from Brenden Dillon of Surrey, British Columbia and Labanc at 1:36 of the second period. The Blues then scored three unanswered goals in the second period to take a 4-3 lead before Thornton got an assist on the Sharks game-tying third period goal by Logan Couture of Guelph, Ontario with only one minute and one second left in regulation. The Sharks then won the game in overtime on a game winning goal by former Ottawa Senators defenseman Erik Karlsson.