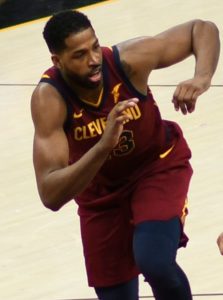 Tristan Thompson of Toronto, Ontario had an instrumental role in the Cleveland Cavaliers' 111-102 playoff victory over the Boston Celtics in game four of the National Basketball Association's Eastern Conference Final at the Quicken Loans Arena in Cleveland, Ohio on Monday. Thompson led the Cavaliers with 10 defensive rebounds and 12 rebounds overall.
The 12 rebounds tied a 2018 postseason high for Thompson. He also recorded 12 rebounds in a 113-112 Cleveland win over the Toronto Raptors in game one of the Eastern Conference semifinal at the Air Canada Centre in Toronto on May 1. Just like that night in Toronto, Thompson had a double double on Monday against the Celtics. He registered 13 points in the nine point Cleveland win which tied the best out of seven series at two games apiece.
Twice in Thompson's NBA career he has had 16 rebounds in a playoff game. The first time came on May 22, 2015 in a 94-82 Cavaliers win over the Atlanta Hawks in game two of the Eastern Conference Final and the second time came on June 16, 2016 in a 115-101 Cavaliers win over the Golden State Warriors in game six of the NBA Finals. Thompson had a key role in the Cavaliers' only NBA Finals victory in franchise history in 2016 as he averaged nine rebounds per playoff game.