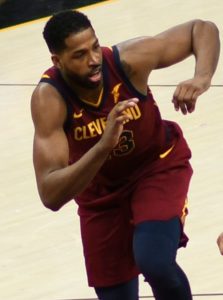 Tristan Thompson of Toronto, Ontario is headed to his fourth straight NBA Finals. On Sunday, Thompson had 10 points as the Cleveland Cavaliers beat the Boston Celtics 87-79 to win game seven of the Eastern Conference Final. With the win, the Cavaliers beat the Celtics four games to three.
Thompson was one of four Cavaliers players to record into the double digits in points on Sunday. LeBron James had 35 points, Jeff Green had 19 points and J.R. Smith had 12 points.
So far in the 2018 NBA Playoffs, Thompson is averaging 6.1 points per game and 6.1 rebounds per game. One area to his game where he has shown some improvement is with his overall accuracy. Thompson is shooting a playoff career high .621 when it comes to his field goal percentage and a playoff career high .792 from the free throw line.
It will be the fourth straight year that the Cavaliers will be playing the Golden State Warriors in the NBA Finals. The Warriors defeated the Houston Rockets 101-92 in game seven of the Western Conference Finals on Monday night. The Cavaliers won the NBA Finals in 2016.
The Warriors meanwhile have a Canadian connection. Their all-star point guard Stephen Curry is the son of former Toronto Raptors shooting guard Dell Curry. Stephen meanwhile was raised in Toronto where he developed his basketball skills. Game one of the NBA Finals is Thursday night from Oakland.