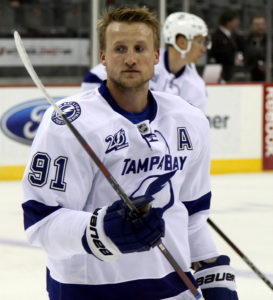 When the Tampa Bay Lightning defeated the Dallas Stars 2-0 in game six of the Stanley Cup Finals on Monday from Rogers Place in Edmonton, 10 Canadian players won the Stanley Cup. They were captain and centre Steven Stamkos of Markham, Ontario; centre Brayden Point of Calgary, Alberta; left winger Alex Killorn of Halifax, Nova Scotia; centre Anthony Cirelli of Etobicoke, Ontario; centre Yanni Gourde of Saint-Narcisse, Quebec; centre Cedric Paquette of Gaspe, Quebec; centre Carter Verhaeghe of Toronto, Ontario; right winger Barclay Goodrow of Toronto, Ontario; defenseman Luke Schenn of Saskatoon, Saskatchewan; and goaltender Curtis McElhinney of London, Ontario.
The best Canadian on the Lightning in the playoffs was clearly Point. He led all players in the playoffs with 14 goals. He also added 19 assists for 33 points, and was second in points among all National Hockey League players. Nikita Kucherov, Point's Lightining teammate was the leader with 34 points.
Gourde and Killorn also reached double digits in points in the postseason as they had 14 and 10 points respectively. This was the second time in Lightning history that they have won the Stanley Cup. Their first title also had a strong Alberta connection as they defeated the Calgary Flames four games to three in the 2004 Stanley Cup Final.