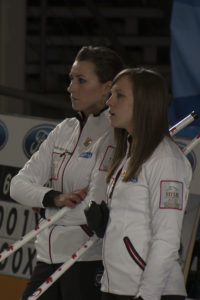 Team Canada won three gold medals in the first ever World Cup of Curling in Suzhou, China on Sunday. Laura Walker of Toronto, Ontario and Kirk Muyres of St. Gregor, Saskatchewan won the mixed doubles competition, Kevin Koe of Calgary, Alberta skipped Canada to gold in the men's competition and Rachel Homan skipped Canada to gold in the women's competition.
In mixed doubles, Canada defeated Sarah Anderson and Korey Dropkin of the United States 7-3 in the gold medal game. The Canadians bounced back after trailing 3-1 after three ends with six unanswered points. The end where Canada got momentum was the fifth end when they stole three points. Anderson and Dropkin each had difficulty removing Canadian stones in the four foot.
In the women's final, Canada defeated Sweden also by a score of 7-3. It was a great game for Canadian third Emma Miskew of Ottawa, Ontario, who curled 94%. Even though the score was a little lopsided, Canada was only leading Sweden 4-3 into the eighth end when Homan successfully got by a Canadian guard in the 12 foot to take out a Swedish stone in the four foot and score three points.
In the men's final, Canada beat Norway 6-5. It was a strong game for Canadian lead Ben Hebert, who curled 92% and third BJ Neufeld, who curled 91%. The Canadians scored five of their six points in two ends as they scored three points in the second end and two points in the fourth end.
All three Canadian teams had a record of six wins and one loss in the tournament. Canada's losses came to Scotland 3-1 in men's curling, South Korea 8-2 in women's curling and Norway 8-5 in mixed doubles curling.